Natco products reach more than 40 countries globally. Key geographies include India, North America, Latin America, Asia Pacific, South East Asia & Middle East.Through our partneship driven model, our exports are primarily done by out-licensing our products to multinational companies and also those companies with strong local/ regional presence in the respective geographies.
We expect to continue growth by exporting niche & high value APIs & formulations. Our export business is supported by a strong in-house regulatory team. In addition to the partnerships, we operate in certain key geographies through our subsidiaries.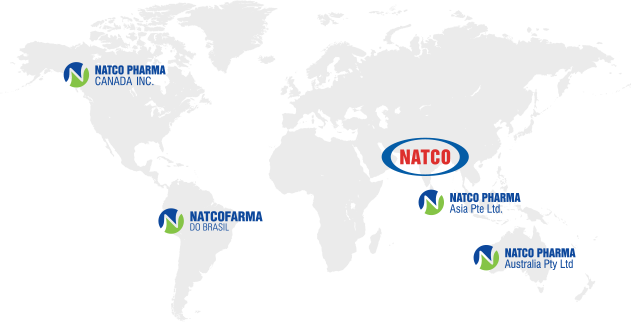 USA
Our filings in the US are for intricate and niche products (either on our own or in collaboration with global pharmaceutical companies). Our finished dosages formulations (FDF) business is primarily focused on high-entry-barrier products that are either difficult to formulate and/or manufacture, typically resulting in limited competition in the market. Our pipeline of niche and complex generics products in US consist of 25 active commercial products, 19 Para IV's (12 approvals) and 39 active DMF's, as of March 31st 2021.
EUROPE
Natco has tied up with partners based in Europe for co-development of products and licensing of dossiers in the territory. Two of the companies' plants have been inspected and approved by European Health Authorities.
RoW
Natco's presence in RoW markets consists of Hepatitis C & Anti-Cancer formulation products. We have commercialised in some of the key markets such as Vietnam, Mongolia, Myanmar, Venezuela. Our reach into the RoW markets is done through following key channels - our subsidiaries; direct collaboration with local partners in a geography; global partners/distributors for a wider reach into several smaller geographies. Additionally, our aggressive business development activity in the emerging markets for the licensed Hepatitis C drugs will create new channels for growth.
BRAZIL

Natcofarma do Brasil, a step down subsidiary of Natco India, commenced operations in 2011. It operates under three business entities - Pharmaceuticals, OTC and Distribution services. The Pharmaceutical division undertakes registration and importation of pharmaceuticals. Backed by a strong portfolio of Oncology products we file niche products along with a value speciality-driven product pipeline for strong non-retail participation in local tenders.
CANADA

Natco Pharma Canada Inc., a wholly owned subsidiary was incorporated in the year 2012. Headquartered in Toronto supported by a strong local team comprising of QA, RA and Sales force. We have a cumulative total of 29 filings at Health Canada as on March 31, 2021. We are the first company to launch the first generic version of Oseltamivir capsules in the year 2016. Driven by a pipeline of new products we expect to file several speciality products in the coming years.
ASIA

Headquartered in Singapore, the subsidiary is involved in the registration and direct sales of NATCO's products in the Asia market.
• Received approvals from Health Sciences Authority (HSA) for nine niche products as of March 31, 2019.
• Products targeted for breast cancer, blood cancer and supportive care in cancer treatment

AUSTRALIA

Incorporated in September 2014, the subsidiary is involved in the registration and out-licensing of NATCO's products in the markets of Australia and New Zealand.
USA

NATCO Pharma USA LLC is a fully-owned step-down subsidiary of NATCO Pharma Limited. The subsidiary was incorporated with the acquisition of Dash Pharmaceuticals LLC in January 2022. NATCO Pharma USA LLC is the sales and marketing front end of NATCO in the US market.
Mr. Subba Rao Mente